May 23 to 25, 2023

University of Navarra Museum
ICS - Siemens Gamesa Classroom
The MUN's "Laboratorio de pausa" is a research space that invites us to develop, through experience, physical and mental skills linked to the contemplative life. 
week_attention_txt_intro2
Looking and listening are the basis of our openness to the world, of socialization. This is why the MUN is dedicating these days to the important theme of attention.
As part of a "Laboratorio de pausa", these three days will focus on attention. Through workshops, seminars and meetings, the objective of the activities will be to deepen and rehearse practices to preserve and develop this capacity, which allows us to "want what we want" and which is particularly threatened today by forces that strive to take it over.
week_attention_program_title
Full capacity except for the evening activities on May 24 and 25 at 5:00 p.m.
Tuesday, May 23rd


Attention and beauty workshops
---
10:00 // Workshop Space
Presentation of the conference
---
10:30 // Workshop Space
Workshop 1: The aura of attention: dowsing

It is known that attention has a lot to do with perception, but can it perceive itself? Does it leave a trace? In this workshop we explore the possibilities of an "attentional aura".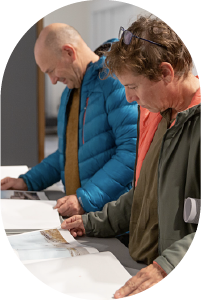 ---
11:00
Coffee with attention
---
12:00 // Workshop Space
Workshop 2: The Art of Attention

Through a practice of sustained attention, this workshop plays with the relationship between works of art and their digital representations.
---
14:00
Lunch break
---
17:00 // Exhibition halls and Workshop Space
Afternoon session: Applied "aesthesis" exercises

Exercises of silent contemplation of selected works of art in four phases: encounter, attention, negation and discovery, followed by sharing.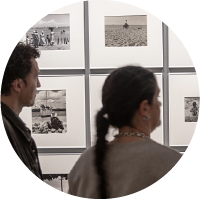 Wednesday, May 24


Attention and care workshops
---
10:00 // Workshop space
Introduction: Reading Georges Perec
---
10:30 // Workshop space
Workshop 3: The power of the "infraordinary".

We use the work of Georges Perec to bring to life "the infra-ordinary" in our environment and explore the politics of this way of seeing.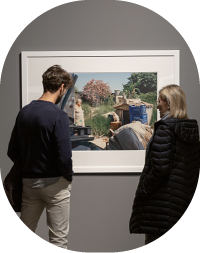 ---
11:00
Coffee with attention
---
12:00 // Workshop space
Workshop 4: Attention and friendship: listening to the link

We experimented with mindful listening practices to consider the role of mindfulness in forming interpersonal and community relationships.
---
14:00
Lunch break
---
17:00 // SIEMENS ICS Classroom
Afternoon Session
Lecture: "The art and science of human attention", by Graham Burnett
Thursday, May 25


Attention and creativity workshops
---
10:00// Workshop space
Workshop 5: Listening to one's own melody

Through music and dance we will pay attention to what is happening inside and outside ourselves. From listening to our own inner melody, we will achieve self-knowledge and understanding and, from stillness, silent interaction and sensitive movement, we will build affective bridges that will promote a deep bond with others and the environment.
---
11:00
Coffee with attention
---
12:00// Workshop space
Workshop 6: Creativity in the gaze

The attentive, deep and refined gaze is a means to access a greater awareness of reality in its visible and invisible dimensions, in the immanence and transcendence that inhabit it.
---
14:00
Lunch break
---

17:00 // Classroom 2 MUN
Masterclass Claudia Claremi with screening of:
Part 1: The Weather (19') (C. Claremi 2020)

El Tiempo is an audiovisual piece by artist Claudia Claremi, created in collaboration with the volunteer team of the Museo Reina Sofía's Education Department. Framed in the fiction of a dystopian present, the volunteers appear as the group of people who inhabit the empty Museum. Through performative actions and experiences of deep attention, El Tiempo establishes intimate dialogues between the bodies, the space and the works of the Collection.
---
18:00
Rest
---
19:00 // Classroom 2 MUN
Part 2: ANTHESIS (19') (C. Claremi 2022) Colloquium

Screening of the film 'Anthesis' presented by Peter Schmidt, D. Graham Burnett and Claudia Claremi, participants of the film and the Friends of Attention network.

Anthesis (Friends of Attention, 19', color, Full HD, 16:9, no dialogue. USA. 2023) (Anthesis). n. The period or act of flower expansion; irreversible opening of the buds; blossoming as such; flowering.
ATTENTION_WEEK_BTN_REGISTRATIONS
week_attention_tit_ponents
week_attention_claudia_ponent_week
Claudia Claremi
Visual artist and filmmaker. Graduated in Documentary Film Directing from the International Film School of San Antonio de los Baños (Cuba) and in Fine Arts from the University of the Arts London (UK) and the Instituto Superior de Arte de La Habana (Cuba). His films have been screened and awarded at festivals such as Raindance, Ann Arbor, Ji.hlava, FIC Guadalajara, Oberhausen, Documentamadrid, Márgenes, Lo Schermo dell'Arte, Vienna Shorts, LOOP Barcelona, the Rencontres Internationales Paris/Berlin, etc. His work has also been shown at PHotoEspaña, La Casa Encendida, CA2M, Centre d'Art Fabra i Coats, Matadero, Fundación Sandretto Re Rebaudengo, among others. He has received the XXI Generaciones (Fundación Montemadrid), XXXI Circuitos de Artes Plásticas (Comunidad de Madrid), the Matadero CREA grant and the NOEXPO program of the Museo Reina Sofía.
week_attention_ponent_Graham
Graham Burnett
She trained in History and Philosophy of Science at Cambridge University and teaches at Princeton. She works at the intersection of historical research and artistic practice, and her writing and collaborations focus on experimental/experiential approaches to textual material, pedagogical modes, and hermeneutic activities traditionally associated with humanities research activity. Recent performances and exhibitions include a number of events arising from the work of the collective ESTAR(SER). Burnett was co-curator of the Practices of attention program at the 2018 São Paulo Biennial and co-host of ATTENTION: History, Philosophy, Science at Princeton in 2021. Winner of the Guggenheim and Mellon "New Directions" award, he is the author and/or editor of several books, most recently, Twelve Theses on Attention (Princeton, 2022) with Friends of Attention. More at www.dgrahamburnett.net/
week_attendance_ponents_fernando
Fernando Echarri
He holds a PhD in environmental education and is responsible for the Educational Area of the University of Navarra Museum. Member of the research group VOICES of the University of Navarra. Author of several books and scientific articles such as those published in the Journal of Museum Education. He is responsible for the SociARTE program and associate professor at the University of Navarra. 
week_attention_ponents_Peter
Peter Schmidt
A graduate of Princeton University, he lives in New York. He is a multidisciplinary writer, facilitator and artist. He has contributed to a number of publications, including Foreign Policy, The Cleveland Review and The Baffler.
week_attention_ponents_Yoldi_profile
Fernando Yoldi
Polarity therapist and osteopath, painter and dancer, facilitator of Biodanza otra mirada and DBES (Dance Based on Sensitive Education) at the Centro Escucha (Pamplona), of which he is director, at the multidisciplinary center of health, sport and well-being UneOnak (San Sebastián) and at the Escuela de Innovación-Caja de Burgos. Delegate in Navarra of the AEES (Spanish Association of Sensitive Education). Collaborator of the research group on Foundations of Education and Social Responsibility in Education (FERSE) of the Universidad Rey Juan Carlos, Madrid. He is part of the editorial team of Third Factor Magazine.
week_attention_organizing_committee
Organizing Committee
Nieves Acedo - University of Navarra Museum
Fernando Echarri - Museum of the University of Navarra
Inés Olza - ICS
Gabriel Pérez-Barreiro - ICS
Peter Schmidt - Institute for Sustained Attention
attencion_week_tit_collaborates
week_attention_logoFriends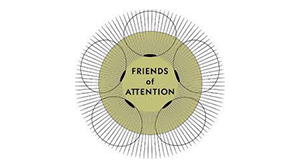 attencion_logopinceton_week