campus_campusCreativo_teatro_txt
A training plan with professionals from the theater world
campus_campusCreativo_teatro_txt2
Several theater groups are active at the university, formed entirely by students who are in charge of choosing, directing and staging their own productions. 
These university theater groups can participate in the Theater Training Plan directed by Liuba Cid, where they work on aspects such as directing actors, characterization, scenery, costumes, lighting and dramaturgy.
Theater directors attending the training plan will be able to participate, with the play they have been working on, in the University Theater Showcase that will take place at the Museum at the end of the academic year.
+Info: alumnosmuseo@unav.es
Phone: 948 42 56 00 ext. 802971 or 802234
Those interested in participating in the training plan given by Liuba Cid can contact the team and participate in the sessions in exchange for an investment of 25 €. The sessions will be held from 2 to 3:30 hours on Fridays October 7 and 14, November 4, 11 and 18. Dates for December, January and February will be communicated. 
The course ends with the UNIVERSITY THEATER SHOW that will take place at Museo Universidad de Navarra on February 18 and 19.
campus_campusCreativo_teatro_img_directora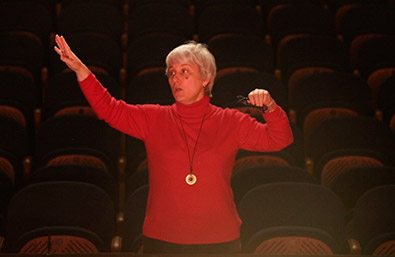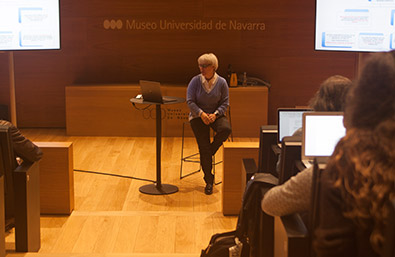 CURRICULUM
Born in Havana, Cuba. Doctor cum laude in Arts and Humanities from the Universidad Rey Juan Carlos (URJC). Academic of the Performing Arts of Spain (AA.EE). In 1991 she obtained a degree in Performing Arts at the Universidad de las Artes de la Habana, Cuba, specializing in Theater Direction and Interpretation, obtaining a Gold Diploma. She holds a degree in Music from the Conservatorio Superior de Música "Amadeo Roldán" in Havana. She has been a direct student of the Italian director Eugenia Barba and the German playwright Heiner Müller.
He has directed more than 50 theatrical productions, dedicating much of his stage work to the contemporary reading of the Classics of the Golden Age. He has published several titles on theatrical technique and specialized articles on theater. In 1994, he won the award for best staging with his musical version of Azorín's play Old Spain at the Chicago American Community Theatre Festival, as well as other awards such as best scenic space, best musical adaptation and best costume design. In 2020 it won the National University Theater Award. Iberoamerican Prize of communication, cultural and orality 2021 awarded by the Iberoamerican Chair of Oral Narration Scenic.

She is currently a professor of Art Theory in the Department of Humanities at the Universidad Rey Juan Carlos, Art History area. Director of the company Mephisto teatro, an Ibero-American theater project that integrates actors, designers and choreographers from Ibero-America and Spain. She is Editorial Coordinator of Ediciones Cumbres©.
campus_campusCreativo_teatro_cabeceraVideo