Dalet (da)
Daniel Abreu Co.

  Saturday / 7 Oct / 19:30 h / 7:30 p.m.


 60 min


 20 y 22 €
MUN Theatre
To go from emptiness to a dimensionless form, to change (of place, of world). The passage and the path is the starting point for several characters who act and interact in making decisions.

Dalet is a letter of the Hebrew alphabet that refers to the door. A door without lintel that allows to go, to cross, to transit. A going from emptiness to form without dimensions. Dalet speaks of a crossing in the desert, of obligatory steps that are taken infinite times on the path of evolution.
This symbol, this energy that allows us to change places, is the driving force of a creation for six dancers and two musicians. The starting point from which several characters begin to make decisions. Figures that, supported by the group, give meaning to a landscape full of symbols that have to do with nature, its conquest and reinterpretation.
The humility of throwing ourselves on the ground and waiting for the grass to grow on our skin is a recurring image that accompanied the whole process. The surrender of the water to its course. And dancing. Dancing knowing that it is the ground that moves and we only react to it through the air.
The work moves from a part sustained in gesture and dance, towards a place of reverie and magical representation.
 
ARTISTIC FILE
Direction and creation: Daniel Abreu
Assistant to the direction: Mar Rodríguez
Interpretation: Daniel Abreu, Abián Hernández, Diego Pazo, Mauricio Pérez, Daniel Rodríguez, David Vilarinyo
Musicians: Hugo Portas, Elisa Tejedor
Original music: Hugo Portas, Elisa Tejedor
Other music: Alec Roth, David Terranova, David Toop, Forest Swords, John Taverner, Michael Wall, Svarte Greïner, Thomas Köner, Akira Rabelais, Andy Stoot
Lighting: Pedro Yagüe
Set design: Luis Crespo
Projection and technical coordination: David Benito
Tailor workshop: Gabriel Besa
Design and realization of fantasy costumes: Esteban Cedrés
Photography: marcosGpunto
Distribution: Elena Santonja
Project carried out with the support of the program of aid to creation and mobility of the Madrid City Council and the aid to choreographic production of the Community of Madrid.
In collaboration with: María Pagés Choreographic Center, Canal Choreographic Center, National Dance Company.
Acknowledgements: Ana Cabo, Janet Novás, Jesús Villanueva, Dácil González, María Pagés, Larbi El-Harti, Beatriz Barzamendi, Elena P., Carmen Werner, David Candela, Roberto Torre, Roberto Torre, Dácil González.
 
BIOGRAPHY
DANIEL ABREU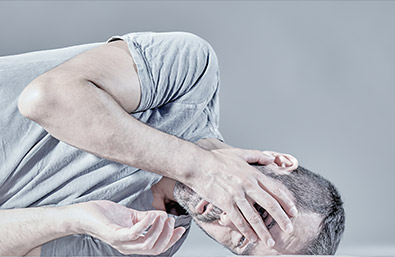 Dancer and choreographer, born on the island of Tenerife where he began his curiosity and interest in physical movement and scenic expression. During his artistic training he graduated in Psychology, which has been very present in his choreographic works through a careful poetic symbology.
As a performer, he has developed his work in different dance and theater companies and groups of the national scene and as a creator, he has an extensive creative career drawn by more than sixty productions that have been seen in many countries, have received the recognition of critics and audiences, as well as several awards.
DANIEL ABREU COMPANY
Founded in 2004, the Daniel Abreu Company is a leading dance company in the Spanish national scene. Daniel Abreu's choreographic work is defined by the use of simple tools of interpretative language, the strength and personality of the performers, the suggestive landscapes that derive in images of great close and dreamlike weight, and a sensitive sound environment. The story of great poetic weight, an outstanding feature in each work, sustains each of the creations premiered, in solo or group format.
The company's team is made up of dancers with a great vocation for physical vocabulary and corporal communication. To date, they have premiered more than sixty works. Touring regularly in Europe, America and Asia.
 
With the support of:

RELATED ACTIVITIES 
21 SEP, 7 OCT and 13 OCT - 18:00 ASSOCIATE YOURSELF TO DANCE 
11 OCT - 19:30 EXPLICA DANSA CON TONI JODAR this activity is free with your ticket to any dance show of the season. 
20 OCT - 14:00 THE LANGUAGE OF GAGA Masterclass with Catherine Coury
25 OCT - 19:00 HOW TO DO THINGS WITH...ORIENT María Pagés - El Arbi El Harti
GO TO EVENTS