Figures of the threshold
Javier Martín I Movement Arts

 Friday / 29 Sep / 19:30 h.


 60 min


 16 y 18 €
MUN Theatre
The choreographer, researcher and performer Javier Martín brings us a new creation that invites reflection, pause and breath. In doing so, he places the figure on the threshold, at the threshold of transit that leads us to think about ceremonies and rites of passage. 
The concept of "crossing the threshold", so characteristic of rites and ceremonies of passage, has been present in countless cultures since ancient times, involving a body in movement in a dance made event.
In a social moment in which these rites are becoming blurred, a time in which acceleration, liberalism and globalization push us to increasingly frenetic rhythms, the artist seeks to develop a choreographic work in favor of reflection, pause and breath. 
And this research also opens up to the famous archetype of the "guardian of the threshold". These figures that take on the forms of our most intimate fears, guard the threshold, but not to deny us entry, but to encourage us to live the opportune labyrinth that makes transformation possible and, therefore, the passage. It is necessary to wear the skins of the beasts, to inhabit the masks. To vibrate with the form of the monster and to incorporate the difference.
ARTISTIC FILE
Concept and movement: Javier Martín
Lighting: Octavio Más
Space and designs: Javier Martín
Sound: Abul Mogard, Philip Jeck and Leyland Kirby
Production and theoretical accompaniment: Sabela Mendoza
Visual techniques: Juanma Lodo
Costumes: Cremallera Studio, Álvaro M. Leiro, CCG
Video and photo: Leo López
Co-production: Javier Martín, CCG Centro Coreográfico Galego
Research residency: Teatro Leal, La Laguna
Acknowledgements: Pep Ramis -L'animal a l'esquena, Javier Cuevas, Juanma Artigot, Laura Cedrón
Co-production: Javier Martín | Artes del Movimiento and CCG Centro Coreográfico Galego.
BIOGRAPHY
DIRECTION / CREATION / INTERPRETATION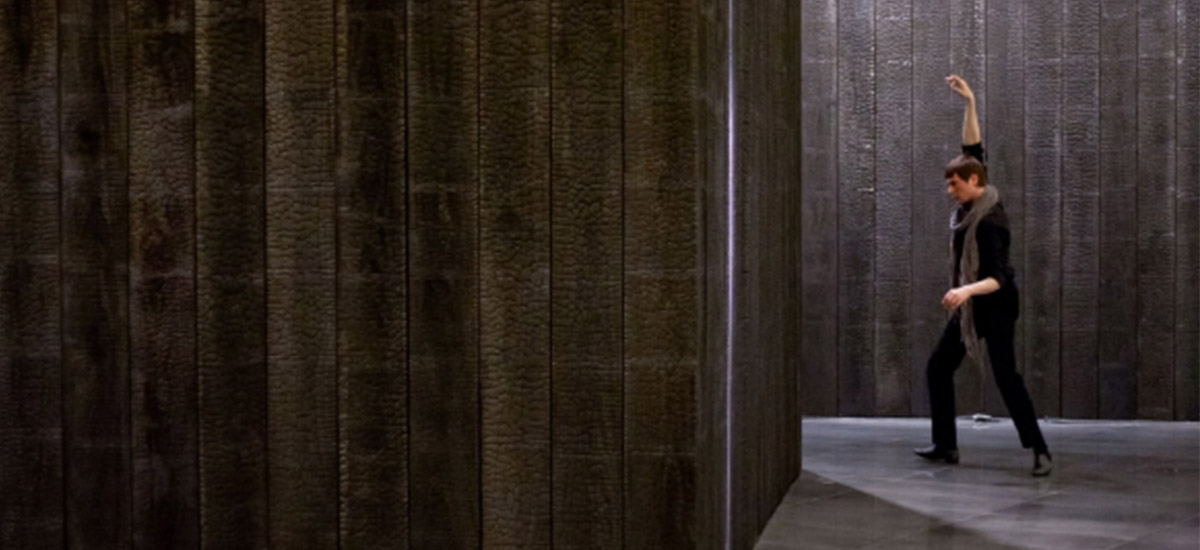 Javier Martín is a choreographer, researcher and performer. He develops an epistemological and critical research project on the movement arts. Situated in the choreographic creation that seeks change and position-taking, the artist finds his escapes in different discursive overflows through various disciplines and stagings such as writing, lectures-performances, work processes accompanied by laboratories and working groups, the activation and development of research groups, the accompaniment of training itineraries in different universities or the development of seminars...
He was originally an artist-in-residence at the Teatro Galán in Compostela during his first year of work (2005) while studying Chemistry at the Faculty of the University of Santiago de Compostela, specializing in the itinerary of Quantum Mechanics. Since then, he has created more than 30 pieces, including fourteen stage shows and more than twenty short pieces, special collaborations, site-specific projects or performances for unconventional spaces. He has presented his work in Spain, Portugal, France, Russia, Ukraine, Mexico, Uruguay and Guatemala.
With the support of:

RELATED ACTIVITIES
21 SEP, 7 OCT and 13 OCT - 18:00 ASSOCIATE YOURSELF TO DANCE 
28 SEP - 19:00 CÓMO HACER COSAS CON... RITES OF STEPPING Javier Martín
11 OCT - 19:30 EXPLICA DANSA CON TONI JODAR this activity is free with your ticket to any dance show of the season. 
20 OCT - 14:00 THE LANGUAGE OF GAGA Masterclass with Catherine Coury
25 OCT - 19:00 HOW TO DO THINGS WITH...ORIENT María Pagés - El Arbi El Harti
GO TO EVENTS
Museo Universidad de Navarra:

Performing Arts

Museo en Danza